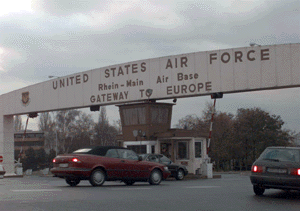 Rhein Main Air Base- Gateway to Europe
What is a Rhein Main Brat? Most of us are former military dependents (Brats) who were stationed at Rhein Main Air Base Germany sometime during the 1960's and 70's. A few of us were dependents of American civilians. The thing we have in common is that we spent some very critical teen years together under some rather unique circumstances. We're scattered all over the world now and there are many years behind us but thanks to the miracle of the internet we are slowly beginning to find each other. This web site is our effort to find our lost friends and to bring us back together. It's not quite the same thing as the AYA Teen Club (there's no foozball) but then we're not teens anymore.

Find us on Facebook!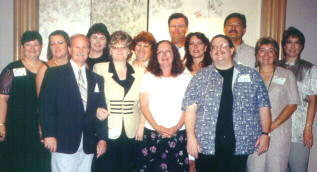 Rhein Main Reunion
A small but mighty group of us were reunited at the Overseas Brats Homecoming '99. From that beginning we formed a mailing list and now this web page. Over the years, we've mostly moved over to Facebook, but we keep the website up just in case one of our friends stumbles upon it.
Photo (l-r): Becky Marshall, Linda Houghton, Dave Heath, Kathy Tripp, Kathy Marshall, Jacque Marshall, Mona Minton, Mark Feathers, Sally Haffner, Egg Usinger, Lee Thomas, Dawn Thomas, Debi Petriscak

To see a partial listing of our members, click on the button below.

Browse through our large photo gallery to see pictures of "then" and "now"!

Photo Gallery



We've had some great reunions. Click the links to view photos and comments.

RMBrats Reunion 2000
RMBrats Reunion 20002
RMBrats Reunion 2003






We've lost some brats over the years. Click below to see our Tribute Page


Tribute Page


Links

Frankfurt American Highschool Alumni Association
Military Brats Online
Pictures of the Past in Frankfurt
Frankfurt American Highschool Past and Present
Frankfurt American High 1963-1966
Overseas Brats Homepage
Frankfurt American High School 67-71 Alumni site
1974 Rhein Main Junior High School Yearbook
Military-Brats Registry


Web page by Debi Onken Updated 02.04.18